It will be interesting to see how city, state and federal agencies respond... If I recall correctly the UK was reporting recntly that they'd arrested most of the Anonymous Leadership
***************************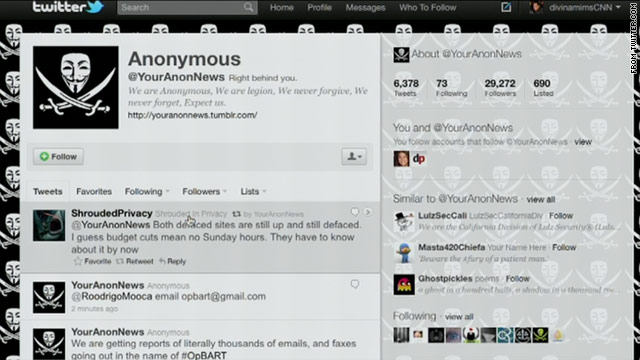 August 14, 2011 5:16 p.m. EDT
CNN) -- Members of a well-known hacking group -- according to a statement and Twitter messages -- took credit Sunday for an online attack targeting San Francisco's embattled transit system.
Anonymous -- in a news release attributed to the group, and backed up by related Twitter pages -- said it would take down the website of the Bay Area Rapid Transit System, known as BART, between noon and 6 p.m. PT Sunday. This is in response to the system's decision to cut off cellphone signals at "select" subway stations in response to a planned protest last week.
"By (cutting cell service), you have not only threatened your citizens' safety, you have also performed an act of censorship," a seemingly computer-generated voice -- speaking over dramatic music and images -- said in a video posted online Sunday afternoon. "By doing this, you have angered Anonymous."
On Sunday afternoon, a link off BART's website to myBART.org apparently had been hacked. It showed a page featuring, among other items, the Anonymous logo -- a smirking mask above two crossed swords, all on a black background.
Read The Rest